Security Printing Services
The coupon industry is estimated to be approximately $470 billion dollars. That's a LOT of coupons being used for big savings by consumers! In 2014, CPG manufacturers distributed over 300 billion coupons to consumers. These programs drive awareness and increase product appeal with consumers. Unfortunately, with the benefits comes the dark side of couponing; fraud. Counterfeiting of printed promotional coupons is both widespread and costly. The International Anti-Counterfeiting Coalition (IACC) estimates that counterfeiting, forgery and other forms of document fraud cost businesses over $600 billion a year in lost income. Counterfeiters can produce foolproof reproductions of high-value coupons that could fool even a well-trained eye. The objective is to thwart potential counterfeiters by incorporating nearly impossible-to-reproduce effects into the printed materials.
Printing Arts helps support retailers by incorporating security features into high-value coupons. Our capabilities can make the act of coupon counterfeiting nearly impossible to execute. By incorporating holographs, unique coatings, micro embossing or micro printing, thieves will be at a loss as to how to accurately reproduce your coupons. Each effect has its benefits so contact us to fit the right solution to your application. Printing Arts offers full accountability of your coupon programs. With camera-controlled production areas and documented sheet destruction you have full confidence that your high-value coupons will be under the securest watch from plating to delivery.
Printing Arts is pleased to offer clients several options in security technologies including: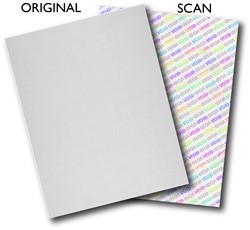 Security Papers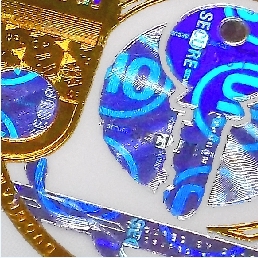 Microembossing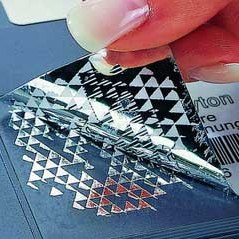 Tamper-Evident Labeling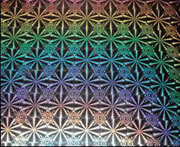 Cast and Cure Refraction Coatings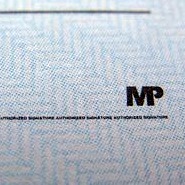 Microprinting
Security Holograms
Security Papers: Security papers have hidden security featured built right into the paper surface. The feature is activated when the sheet is run through a copier. When the beam of light passes over the original, a VOID watermark appears on the copy.
Micro Embossing: The strength of this technology lies within the brass etched die. When pressed into the substrate, the fine, detailed patterns transfer to the substrate making reproduction virtually impossible to achieve.
Tamper-Evident Labels: These high-tac labels leave a VOID message behind when removed. The label literally self-destructs when removal is attempted.
Cast and Cure Coatings: This coating is achieved exactly as described. Wet UV coating comes in contact with a patterned film. During the process, a UV lamp cures the coating in the pattern of the film. The result is a striking patterned effect that is both unique and cost-effective to produce.
Microprinting: Mainly seen in treasury notes and checks, microprinting is quickly catching on in the couponing industry. By printing legible text far smaller than most traditional output devices can achieve, the retailer can spot fraudulent documents simply by checking the legibility of the micro printed text. Microprinting appears typically in subtle areas such as the signature lines of a check.
Security Holograms: This technology is widely used in the couponing industry. The image in the previous copy shows security holograms in use on a $10.00 coupon. By changing the pattern annually, the holographic effect becomes even harder to reproduce.
Looking to get more information on adding counterfeit-proof elements to your promotional items? Here are a few great resources to familiarize yourself. As always, we're here to help guide you in the process so please feel free to contact us with any questions!
Coupon Information Corporation (CIC): A group of leading industry retailers participate in this effort which works to stop the manufacture and distribution of fraudulent coupons and offers. By incorporating complex holographic patterns into their coupons, retailers can take a stand against this illegal practice. Print partners like Printing Arts are trusted suppliers delivering these fool-proof elements to retail promotional tools.
The Federal Trade Commission (FTC): The Federal Trade Commission has useful tools to become educated on various forms of fraud and resources to educate oneself on how to combat and spot fraudulent materials.
Micro-Embossing Security Patterns: Hinderer + Mühlich – is a leading worldwide manufacturer of security stamping dies for the graphic and plastic industry. Check out a gallery of interesting patterns at their website.