Improve your shelf presence with +AddBrilliance cold foils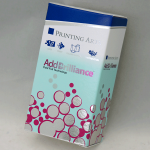 We're at it again! We fired up our 8-color UV cold foil press to run a series of tests. This time we tested +AddBrilliance cold foils on SBS. +AddBrilliance cold foil is a great solution for folding carton decorating!  Here are 6 reasons to consider +AddBrillance cold foil for your carton work:
 Eco-friendly: Cold foil is 100% recyclable
Variety: foils come in in flat silver, holofoil and patterned effects
Single press pass: Foil is applied first and can be overprinted all in one pass
Substrate flexibility: It can be applied on paper, board stocks and plastics
Expanded effects: 8-colors + UV in-line coating including glitter and gloss/dull
Control: Unlike hot foil stamping, cold foil effects can be applied in a screen value including fine patterns and gradations!
As always, we're all about sharing our press test results so please contact your account rep or fill out the form on our website to receive FREE samples of our carton tests!